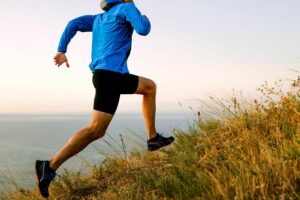 Entering 2021 is unlike any other New Year's experience… It seems that our world has turned upside down! So many of our familiar ways of life have been altered since 2020, and with these radical changes many of us find ourselves struggling to find a healthy balance.
BALANCE is defined in the Oxford Dictionary as: 'an even distribution of weight enabling someone or something to remain upright and steady….a condition in which different elements are equal or in the correct proportions….keep or put (something) in a steady position so that it does not fall.'
As is our practice in the beginning of each new year, we seek the Lord with other believers through special days of fasting and prayer. The Holy Spirit directed me to I Corinthians 9:24-27. Here the Apostle Paul instructs us on achieving success in life; being prepared for our eternal reward. He defines the true competitors as maintaining their balance.. How do we do that? Paul compares our journey of faith to competing in a race.
"Do you not know that those who run in a race all run, but one receives the prize? Run in such a way that you may obtain it. And everyone who competes for the prize is temperate in all things. Now they do it to obtain a perishable crown, but we for an imperishable crown. Therefore I run thus: not with uncertainty. Thus I fight: not as one who beats the air.  But I discipline my body and bring it into subjection, lest, when I have preached to others, I myself should become disqualified."
There's alot we can take away from his speech. I'll share a few of my thoughts:
We are tri-part beings God created in His image: Spirit, Soul and Body. We cannot ignore the need to care, nourish and maintain all 3 parts of our human existence.  Your spirit is the inward temple where Jesus and the Holy Spirit dwell. The Holy Spirit is available 24-7 to give you Peace, divine counsel and wisdom. Remember, your soul is the mind, will and emotions. (Involving mental health). God promises to give believers a sound mind: the mind of Christ. The body is simply yet complexly our flesh. The Bible has already warned us that although God created our bodies with perfect design, attention and love, our spirit man/woman must discipline the flesh, or reign in any carnality which will cause us to trip and fall.
Paul warns us if we are not temperate in all our ways we could be disqualified from the race. Temperance is defined as,' voluntary moderation of action and thoughts: meaning self-control, or balance'. Like not leaning too far to the right or the left, so to speak. A strong runner has balance. Balance can make or break a runner. Paul speaks of a disciplined body and the Bible lists self-control as one of the fruits of the Holy Spirit. Do a personal assessment of where you lack self-control. Practice the art of Simplicity in your daily lifestyle, and try setting more obtainable goals. Review your progress regularly with others; stay accountable.
Lastly, we need to pursue a growing relationship with the Father,Son and Holy Spirit. This friendship includes completing the race! Paul emphasizes we should run with confidence, planning to obtain our eternal reward in Heaven. As with any competition there are potential hazards which could cause us to forfeit the prize. Our daily choices can help us stay balanced and keep us from being disqualified. Jesus is cheering His children on: 'C'mon,you have everything you need in Me: wisdom,strength and courage to find your balance and win the race!'
Let's be strong and confident running the race with God's guidance in 2021. Daily practice of both spiritual and physical disciplines will help you find and maintain your balance. You won't need to worry about what's coming up today, or be afraid of falling tomorrow.