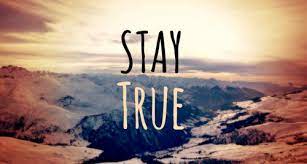 By Valerie Bergquam
Stay focused on God's truth revealed in the person of Jesus Christ, His words, and becoming an instrument of His divine love. John the Beloved was passionate and focused on this theme found in the 1st, 2nd, and 3rd Epistles of John. These were written near the end of the first century, about A.D. 90. The Holy Spirit is the One who leads believers into the full realization of the Truth about Jesus, so we are successfully armed to reject error and oppose false teachers. Perhaps today more than any other time in history, followers of Christ need to discern the difference between truth and lies. Let us be faithful disciples of our Lord Jesus and determine in our hearts to stay true in '22 by making the right priorities. Here are three we find in Scripture.
(1) Be Honest: With God and Others
First off, it's vital for us to be real with the One who made us. Jesus invites us to "Come" in Matthew 11:28-30. Bring your true self, flaws and imperfections before the Lord daily. The Bible assures us that God receives the humble and contrite hearted person. We must recognize our absolute need to seek intimacy with our Heavenly Father, which not only includes gratitude and praise, but humbling ourselves before Him with self-examination and repentance for wrongdoing. We won't succeed by hiding from God- since He made us in His image and made the world, don't you think He knows everything about us anyway? 
Next, be honest and upfront in your relationship with others.  "In the end, people appreciate honest criticism far more than flattery. "(Proverbs 28:23) Insincerity and flattery become fleshly carnal tools to manipulate and use people for selfish gain. This is an unhealthy and disrespectful way of treating others. Christ called us out of those old ways of lying and game playing. Forms of deception never lead to satisfaction or fulfillment in relationships, but result in guilt and condemnation. "Beloved, I pray that you may prosper in all things and be in health, just as your soul prospers." (3 John 2) The word 'health' here describes soundness of body, and metaphorically 'health' refers to sound words and soundness in the faith. 
(2) Trust God and His Truth
One of the priorities for the Bride in 2022 is to stay dependent on Jesus Christ, who is "the Way, the Truth, and the Life," revealing the way to God. (John 14:6) We are advised, "Those who trust their own insight are foolish.." (Prov 28:26) It's in our human nature to rely on self, rather than going to God for guidance- unless we get in a predicament and become desperate for help! Well, how do we build this dependence on God and trust Him instead of the default of leaning on our own understanding? By disciplining ourselves to regularly eat the Word of God as if it were natural food, and value communicating with the Bread of Life. Sometimes the teaching on 'faith' becomes abused in the body of Christ. To grow my faith in God is better understood as growing to trust God. This is a daily working relationship between you and your Creator. Nobody can put a price tag on your faith. You can't buy more faith, but you can make a commitment to be a disciple of Jesus, study His eternal Word, and obey His commandments. 
Found in I John 3:24- I John 4:1 John is passionate for believers to discern the difference between the Spirit of Truth and the Spirit of Error. " Those who obey God's commandments remain in fellowship with Him, and He with them. And we know He lives in us because the Spirit He gave us lives in us. Dear friends, do not believe everyone who claims to speak by the Spirit. You must test them to see if the spirit they have comes from God. For there are many false prophets in the world. "John distinguishes the two by focusing on the sinless glory and saviorhood of our Lord Jesus Christ. "But you have an anointing from the Holy One [you have been set apart, specially gifted and prepared by the Holy Spirit], and all of you know [the truth because He teaches us, illuminates our minds, and guards us from error]." (I John 2:20)
(3) Walk in Love
The outward flow of oneness with Jesus is love in obedience. " This is love, that we walk according to His commandments. This is the commandment, that as you have heard from the beginning,you should walk in it. " (2 Jn 6) You will manifest His Kingdom as you walk in love. We are exhorted to show and demonstrate Christ's love as a daily lifestyle, not just when we feel like it. Pray to let God's love guide our every thought and move. Unfortunately, a common hindrance to walking in love is our self-consciousness. Self-consciousness leads to fear, and then we get distracted from showing Jesus' love.  If you focus on hearing the voice of the Shepherd every day, you will become free to manifest His love to others. And it's not enough just "to think"  kind and caring thoughts towards others, because God expects us to activate this abundant life through actions. If I don't demonstrate love, His commandment to love one another becomes a dream in my mind, instead of reality. "Dear children, let's not merely say that we love each other; let us show the truth by our actions. Our actions will show that we belong to the truth, so we will be confident when we stand before God." ( I Jn 3:18-19 ). Jonathan Cahn speaks about " the fullness of the Bride revealed as she loses herself in the love of God…the joy of being so wrapped up in love you're not self-conscious anymore." We must remember God enables us to be His agents of love through the power of the Holy Spirit. Besides, we humans aren't capable of doing anything truly good without Jesus' help. 
So let's stay true to Christ our Lord in 2022- making the priorities of truthfulness, trusting God and loving others!